Die Übersetzerin Tanja Senica stellt uns diesen Monat ihre Wahlheimat Montreal vor. Und zwar auf Englisch. In ihrem ersten Beitrag wird es frostig - für alle, die sich von den heißen Temperaturen bei uns mental abkühlen wollen perfekt.
Wir wünschen Euch viel Spaß beim Schmökern und Miterleben!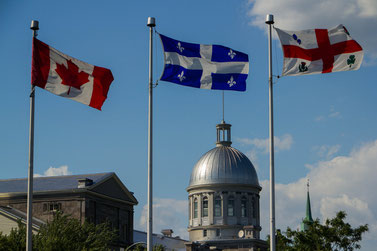 The first time a friend told me that, I didn't believe it. "I know Paris like the back of my hand, it will always be my favorite place", I said. Although many other friends warned me how Montreal will steal my heart, I was still surprised when it happened. And how it happened! My one-year exchange program was over, back to Europe, first stop: Paris! When I walked down the boulevards and ruelles of the most romantic place on earth, all of the sudden it hit me: I miss Montreal!
Born in Slovenia, raised in Austria, with most of the summers (once I turned 18) spent in France or Belgium … here I am now, a citizen of the world, making my path in this incredible city of contrasts, a.k.a. Montreal.
Some main geographic and demographic statistics: With an area of almost 10 m. km2, Canada is the second biggest country in the world. Population-wise, however, it has roughly 35 m. inhabitants, which only ranks it as the 37th most populated country (according to the estimation for 2015). This gives Canada a very low density; in fact, only about 15 countries in the world have a lower area-population ratio. To sum up, Canada is bigger than two European Unions together but barely has 7% of the population of the EU. Nonetheless, it is more multicultural than the EU which is the main reason why I fell in love with Montreal so much! When you are 10 people around the table and each one of you comes from a different country, you know you are in the right place!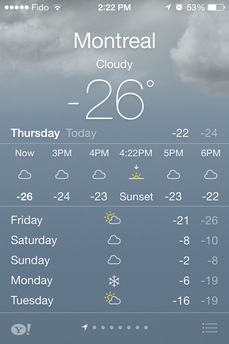 Now, where in Canada is Montreal actually? You will have to go to Quebec, one of Canada's 10 provinces (and three territories); in German you could call it a "Land" :). Quebec is the biggest province in Canada and you could fit over 4 Germanys or 18 Austrias in it. The biggest difference is to be found in language –or better said languages– and this is the second best thing about living here, especially for a translator and interpreter, but more about it in my next article. Unlike the country and the province, Montreal is very average in terms of population density: It is actually very similar to Vienna when it comes to both –area and population. However, it is nothing like The Big Apple from the States – New York City has a much higher population than Montreal.
The real question is: Why is that? Why does Canada have so few people living in such a vast area? The answer is as simple as that: winter. No kidding, winters are harsh, and long, wait looooooooong – with snowstorms sometimes October through April – but hey, it's definitely worth it! I know it's summer at the moment and I also know it's been boiling hot for weeks in Austria, so let me help you cool down by giving you an idea of what a winter here means:
a) It means temperatures up (or rather down) to -35 degrees Celsius with wind chill (a.k.a. feels-like temperature) of 15 or more degrees Celsius lower than the actual temperature. Be my guest and do the math :).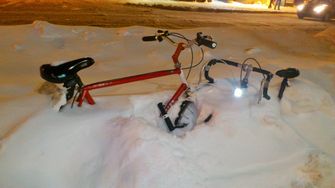 b) Snow, snow, and snow! I love it and since I don't need to bother the everyday hassle of cleaning and driving a car in the winter, I usually go crazy when it snows. And it snows a lot, which means: happy me!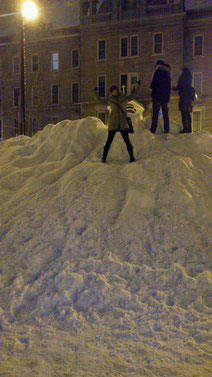 I hope I did not scare you off with this freezing weather. The truth is that it is mostly sunny in the winter in Canada, even or particularly when it's really cold. See, when the temperature is really low, there cannot be any clouds which means: sun, sun, and sun! This was another thing that convinced me to come back to Montreal and adopt the city as my second (or third) home. Besides, is there anything better than relaxing next to a fireplace while it's snowing outside and you had just spent 10 hours on the snowboard enjoying the winter wonderland? :)

I mean, winters are harsh but do we all just hibernate like bears for the whole 6 months? Of course not… How we enjoy winter and how I currently enjoy summer is what you can read about in my next article so:
à la prochaine (bis zum nächsten Mal)!